Recently, my Roland GR-50 guitar synthesizer has started to complain about it's battery getting tired, the famous "Check Internal Battery" message.
I thought : "Well ! Easy ! Let's open up the beast and change the CR2032 battery which is quite a common issue on vintage synth !".
The task was very easy, it took me less then 15 minutes to remove the 10 screws, swap the battery which is luckily located in a battery holder and put everything back.
After the unit was powered on, I discovered that the patch names were really weird. I look on the Internet and discovered in the service manual (page 7 in "Roland GR-50 Guitar Synthesizer Service Manual.pdf") that it is necessary to proceed to factory data recovery. This is done by holding down "Number UP", "EXT" and "WRITE/COPY" simultaneously and to power on the unit (finger gymnastics !).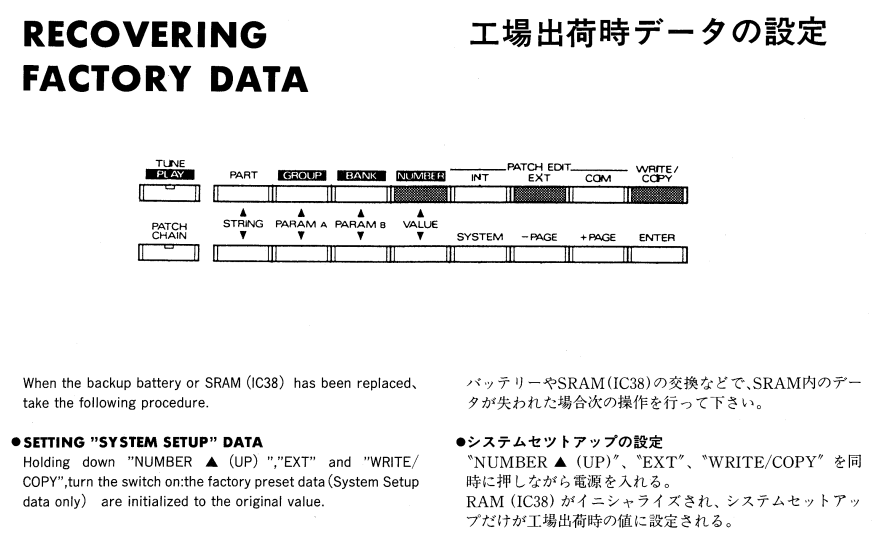 After using this procedure, the weird characters were not appearing anymore but I was not able to find the presets… Next problem ! With another unit or a card containing them, it would have been easy to recover them but without… that's another story ! You have to find called "FACTORY PATCHES (D-SERIES, JUNO-1&2, MKS-SERIES, U-SERIES, GP-8, GR-50) on Roland website (at the time of writing, it's located here) and to download a file called factorypatches.zip. In this file, there's a folder "GR50" and inside this folder a file named GR50ORIG.MID.
Then you have to follow the procedure here. As this url might change in the future, you have to :
Confirm that the switch on the back panel of the GR-50 is set to "MIDI."
Connect a MIDI cable from the MIDI Out of the Sequencer or MIDI interface, to the MIDI In on the GR-50.
Press the SYSTEM button – "System / Mem Protect = On" shows in the display.
Press the VALUE + or – button until Memory Protect is set to "Off."
Press the PARAM A UP [GROUP] button until "System / Exclu Unit # = 17" shows in the display. If the display shows a number other than 17, press the VALUE +/- button until it does.
Play the data from the Sequencer / MIDI player. Note: The display will not indicate that the GR-50 is receiving system exclusive data.
Once all the files have been sent, the GR-50 will return the the play menu. Note : I haven't seen that.
It seems to be easy ! Well… no ! I have tried several times with different sequencers or midi players without success. As I'm using Linux, I decided to have a try with the simplest midi player as possible "pmidi" and that was the solution ! Please note that I'm using the best USB to midi interface that I know : the Roland UM-ONE MK2. If you have a cheap Chinese interface, you might get into trouble.

And voilà ! The synthesizer has a new battery and it's default factory configuration ! What a mess 🙂
I have read that some people were letting the unit on while changing the battery so they are not getting into trouble like me ! This is maybe something dangerous but that can considered 🙂